Mori Okhin
  Dibond Satin Photos triptych
  125 x 187,5 cm
  2014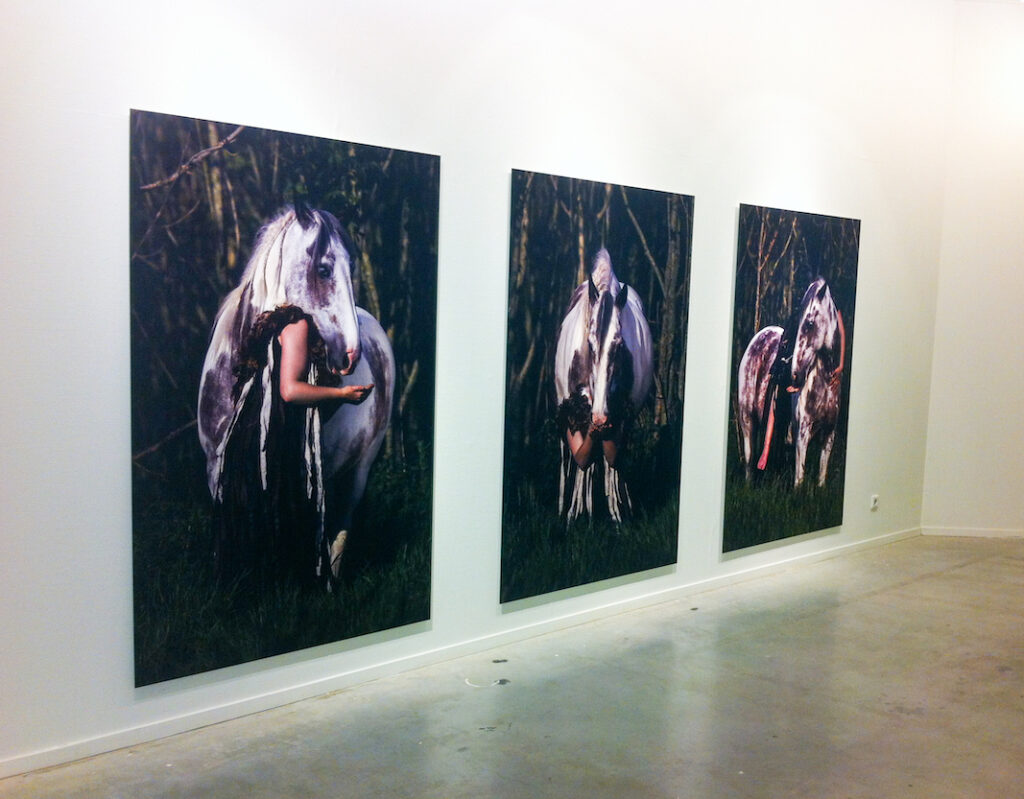 Mori Okhin is a visual composition by Suzanne Vellema consisting of three large dibond photos. In each photo, the artist is wearing a self-made shaman's costume adorned with leather, horsehair, and sheep's fur. Nena, Suzanne's equine companion, is present in each photo with her head always in front of Suzanne's.
At first glance, Mori Okhin appears to be a simple portrait of the artist and her horse. However, upon closer inspection, it becomes clear that there is much more going on in this work. Suzanne's pose and costume suggest a deep connection to the natural world and the spirit of the horse.
The positioning of Nena's head in front of Suzanne's is particularly significant. It suggests that Suzanne is attempting to enter into the horse's mind and way of thinking. This work is a meditation on the concept of "the way of the horse," which has been compared to a buddha-like state of mind.
Suzanne Vellema's hands are posed in a gesture that is both prayer-like and horse feeding-like. This gesture suggests a desire to nourish and feed the horse's mind and state of being while also honoring the spirit and consciousness of her horse. Through this gesture, Suzanne pays tribute to the sacred and transformative power of the horse and enters into a state of meditation and reflection.
These photos in Mori Okhin are a meditation on the unique and intuitive qualities of the horse. They function as a catalyst for human consciousness and have emotional, energetic, and spiritual characteristics. The artist believes that as horses are allowed to step out of their roles as work animals and vehicles for human ego-stroking, they are able to develop and exhibit more of these characteristics.