Voor Suus
Name: Voor Suus
Category: Mixed Media Installation
Material: Horseblanket with embroidered horse hair
Dimensions: 260 x 190 cm 
Date: 2022
Poem by Frieda de Witte:
Als ik een paard was
Galloperend
Over manen en licht
Voorbij sterren en goud
Heuvels langs mijn hoeven
Steen als geruis
Niet omkijkend naar wat was
Maar turend naar de verte
Waar niets was dan niets
en ik
Eeuwig in galop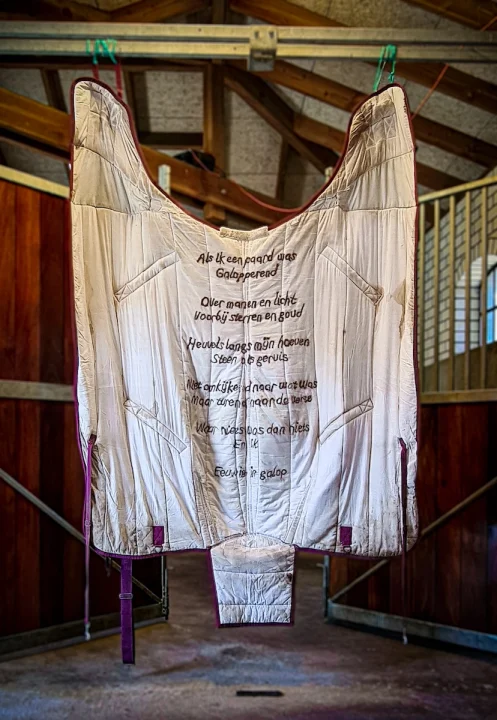 When the opportunity arose for an exhibition at "De Paardenkamp", I knew exactly what I wanted to showcase: a unique piece of art that had been brewing in my mind for some time.
The artwork consists of an old horse blanket embroidered with horsehair from various equine residents of "De Paardenkamp". At the heart of the piece is a beautiful poem by Frieda de Witte, titled "Voor Suus".
My goal in embroidering the blanket with hair from different horses was to create a beautiful connection between these elderly animals with diverse pasts. The shed hair and the blanket are powerful symbols of the changing seasons and the passage of time, representing how these horses have grown older and wiser, and been cared for with love by their previous owners. Additionally, the blanket represents the sense of security and comfort that many people want to provide for their beloved horses, as it is a warm and protective layer that shields the animals from the cold and rain, while also offering a feeling of comfort and safety.
By showcasing this piece at "De Paardenkamp", I wanted to emphasize the deep connection between humans and horses, and the love and care that goes into taking care of these magnificent animals. I am honored to have had the opportunity to share this meaningful artwork with visitors to the exhibition, where they could appreciate and reflect on the beauty of these amazing creatures and their unique life stories.